**ARE YOU A COLLEGE-BOUND STUDENT? CHECK OUT THESE LINKS!**
www.knowhow2go.org www.fastweb.com
MONTHLY AWARD $75.00!!
STUDENTS of the MONTH VISIT MICHIGAN STATE UNIVERSITY
" In recent years some of our students visited and toured M.S.U. where they attended classes and cultural events, to experience college life. I believe that these were golden opportunities to encourage students to look ahead at their future goals.
Judge Herman Marable, Jr. 67th District Court.
HAVE YOU GOT WHAT IT TAKES TO BE JUDGE MARABLE'S STUDENT of the MONTH/YEAR?

You could win:
*75.00 Cash Award*Trophy*Award Certificate*A Day at the Court as Judge Marable's Guest
*Community Recognition*A Chance to Become Student of the Year & a $500.00 Cash award!

Purpose
To encourage Flint area high school students to focus on academic achievement and career goals, 67th District Judge Herman Marable, Jr. and his Citizens Advisory Committee (CAC) will recognize a 10th grade student and award a certificate and $75.00 Cash Award each month during the academic (September - June) year.
The award will be based on completion of an application and essay. Awardees will be invited to visit the 67th District Court and shadow Judge Marable for a day.

Eligibility
10th grade students who are enrolled in good standing who attend public, charter, or private schools located in Flint and Genesee County are eligible to apply.

Applications
Application packets have been provided to high school principal's offices at schools in Genesee County. Applications are also available from the office of Judge Herman Marable, Jr., Courtroom 1, 67th District Court, McCree Courts and Human Services Building, 630 South Saginaw Street, Flint, Michigan 48502, Phone: (810) 597-7795, or from www.judgemarable.net .

Selection
Applications must be postmarked or returned by the 27th of the month to Judge Marable's office at the above address to be considered for award in the preceding month. Members of Judge Marable's CAC will evaluate and select the awardees. Decisions of the CAC are final.

Essay Theme
Students must write a 500 word essay exploring their career goals.

Rewards
-A Trophy and a framed certificate of recognition - $75.00 Cash Prize.
-A Press Release will be sent to local news media outlets for recognition.
-Photo and Biography will be posted on the www.judgemarable.net website.

[Parents or guardians must sign consent form granting permission for release of their child's name and photo and for visit to the 67th District Court].

Student of the Year
At the end of the academic year one of the monthly awardees will be selected by Judge Marable's CAC as the Student of the Year. This person will receive a $500.00 Cash Prize..


CLICK BELOW TO DOWNLOAD PARENTAL CONSENT & APPLICATION FORMS
"Due to the COVID 19 pandemic, and to maintain proper social distancing,
the requirement that Student of the Month applicants must attach a letter of good standing
from a faculty member or school official to their application is temporarily waived until further notice."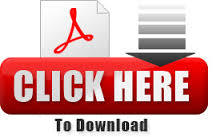 Congratulations to Judge Marable's Student of the Year!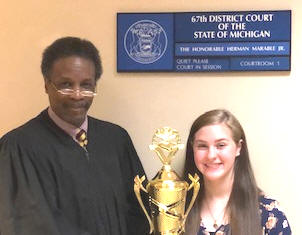 Meghan Danks

SELECTED AS THE STUDENT OF THE YEAR
2017 - 2018
As a Judge Marable's Student of the Year, Meghan receives a $500.00 award, trophy and certificate.
Her name has been engraved on a plaque on permanent display at the McCree District Courthouse.

2016-2017
Student of the Year
2016-2017
Student of the Year
2015-2016
Student of the Year
2014-2015
Student of the Year
2013-2014
Student of the Year
2012-2013
Student of the Year

Marcell Simmons

Marcell Simmons

James Richardson Jr.

Dylan Hernandez
Makala Allen
Brenda Swan
2011-2012
Student of the Year
2010-2011
Student of the Year
2009-2010
Student of the Year
2008-2009
Student of the Year
Chenelle Harkless
Jessica Mullins

Ashley Hamilton

Cierra Haynie
2007-2008
Student of the Year
Anya Young
2006-2007
Student of the Year
Equan Bracy
2005-2006
Student of the Year
Romie Spencer
2004-2005
Student of the Year
Devonte Russell

Congratulations to Judge Marable's Students of the Month Class of 2016 High School Grads!
WE ARE PROUD OF YOUR ACCOMPLISHMENTS!

National Bar Association Crump Law Camp

Established in the summer of 2001, the National Bar Association Crump Law Camp (Law Camp) encourages students of color to pursue a career in law. Named for John Crump, the Executive Director of the National Bar Association, the Law Camp provides 9th through 11th graders with a comprehensive introduction to the American judicial system. The Law Camp seeks to decrease the disparity between white attorneys and those of color by intervening early in the studentsí academic careers.

Law Camp participants are given the opportunity to interact with attorneys, law professors, and guest lecturers as an emphasis is placed on academic preparedness and social readiness for law school. Campers compete in mock trial competitions, attend classes, and take field trips to historical sites and courthouses during a two-week period. Moreover, participants gain exposure to a college setting by residing on the Howard University campus. Tuition to the Law Camp is modest, and a sliding scale is used. Nevertheless, the majority of the campers come from low to moderate income families unable to afford tuition.